The Veribest School Stock Show is this coming Saturday, January 8, 2022 at the Tom Green County 4-H Barn. All community members are welcome to attend. The show begins at 10:00 am on Saturday and will include a livestock show as well as a project show. A few key reminders: Set up for the show will be Thursday at 6:30pm if you would like to help. Livestock Projects may begin arriving Friday morning. All exhibitors and project show participants need to be at the barn by 9:00 am on Saturday. Entries can be made the day of the show. Below is the link to the Project Show entry form.
https://docs.google.com/document/d/1A5iebC1tnNpli2DRohrLH3njOg3o3svR0ZRaNzaHttE/edit?usp=sharing
For more information contact Mr. Lange
Due to missed days during the State Volleyball Tournament, we have amended the calendar to add minutes back into our school year. Please see the changes on the attached calendar.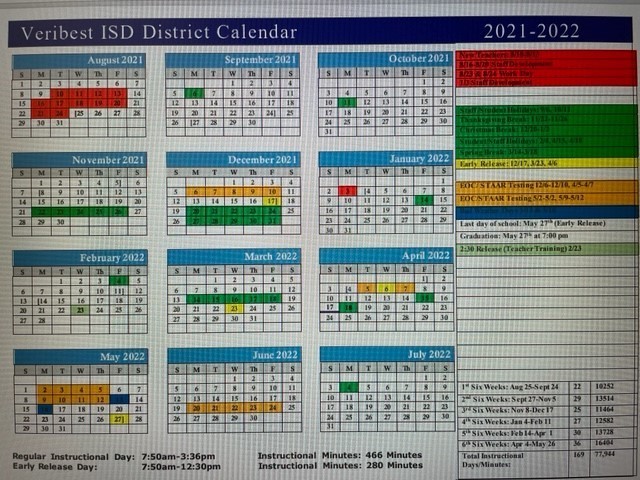 Beginning tomorrow- January 4th, we will resume the 4 bus routes that we had previously. The pick up times for the Paul Ann route will be 7:05-7:15. The afternoon bus will arrive at Paul Ann between 3:50 and 3:55. Parents: please be patient as we resume the schedule for the beginning of this year.
Veribest ISD gyms will be closed for all school and community use starting on December 22nd through December 26th. This closure is per UIL rules. Gyms must be closed for 5 consecutive days including Christmas Day. The gym will be available for use again starting Monday, December 27. There will NOT be open gym time on Sunday, December 26. Enjoy your holiday!
Congratulations to our November and December Falcons of the Month!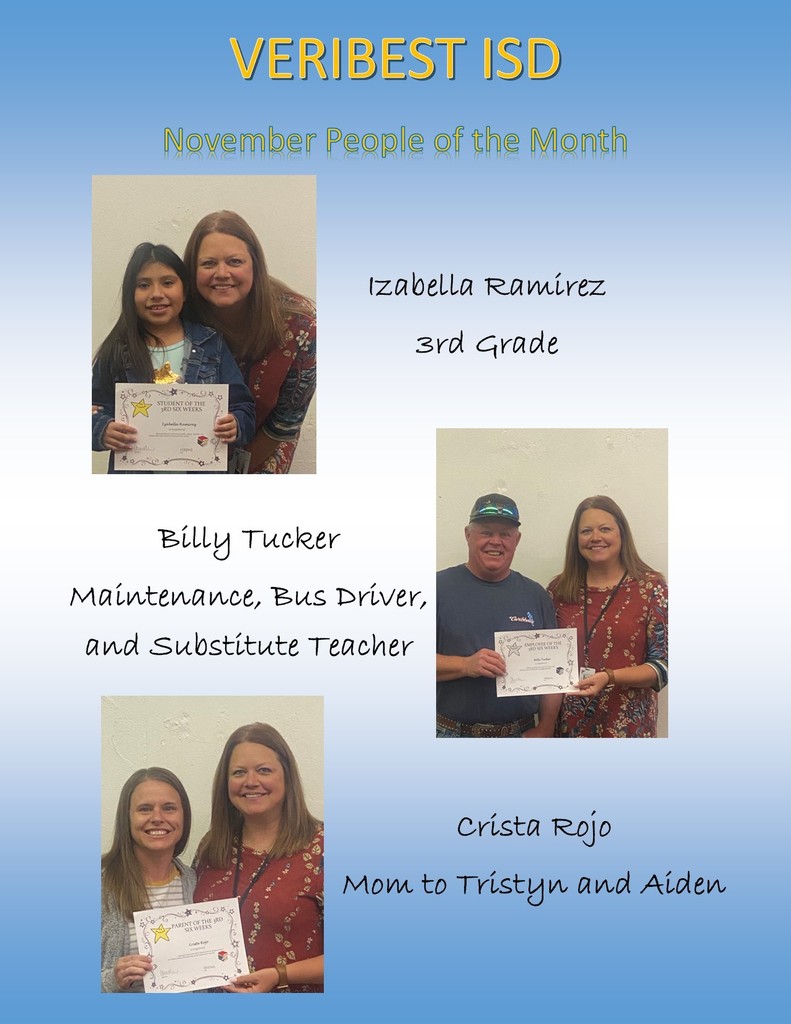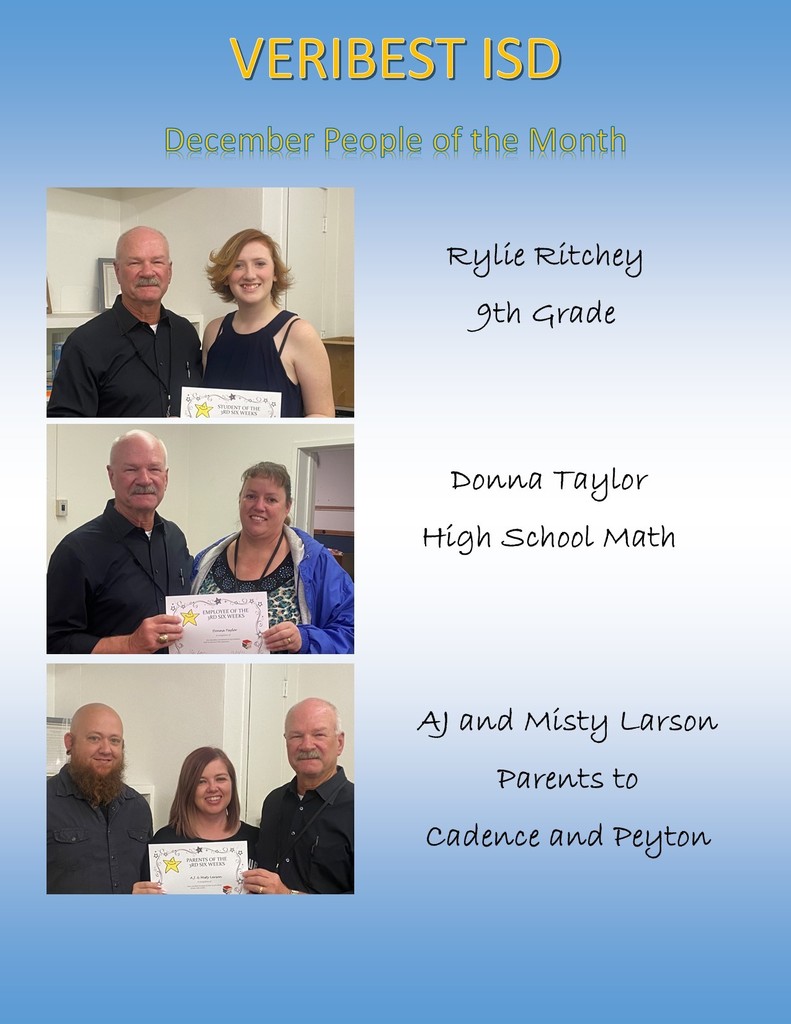 Veribest ISD will be accepting donations at the home basketball games tonight and on Friday night to help the residents in the Mayfield, Kentucky, area with the devastation from the tornadoes. Veribest ISD will also be donating the gate from this week's games as well. A few of the VISD faculty members have close family members who were very near the storms.
Congratulations to the following Lady Falcon Volleyball players for being named TGCA 1A All State Volleyball: Kennadi Wheeless, Olivia Abbott, Cora Blackwell, Callie Briley, Meredith Robles, and Collyn Daniels! All-State honorees are chosen by a committee of eight 1A volleyball coaches from all across the state. We are proud of y'all! 🏆 🥇 Congratulations to Kennadi Wheeless on being named TGCA Academic All State! To be chosen for this honor, athletes must be a senior who played their sport for four years while maintaining at least a 94 overall GPA. Great job Kenn! ✔️

Veribest ISD Elementary PE Coach, "Coach Neal", is showing his Holiday Spirit today! :)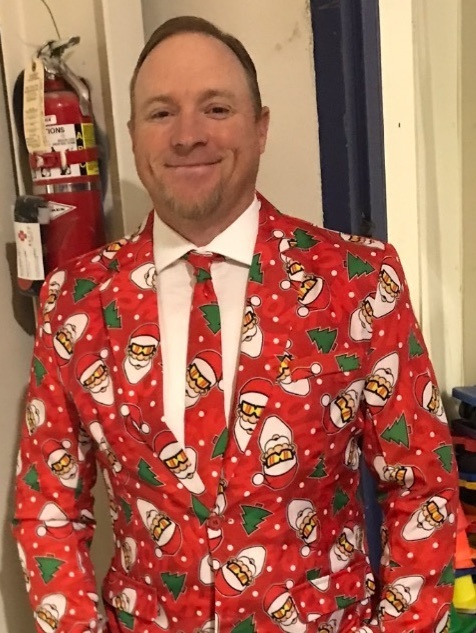 PTO meeting will be rescheduled to Wednesday December 8, 2021 at 4:00. Sorry about the last minute change. Have a great day!
Congratulations to our Falcon/Lady Falcon Basketball Teams on a 3 game sweep last night over the Blackwell Hornets! It was a great day for some Falcon Basketball!
State Volleyball Info for Veribest ISD Monday, November 15: Walk through send off in the high school gym at 3:15. Fans may enter through the cafeteria to participate. Team leaves following send off. Tuesday, November 16: Lady Falcons have court time at the Curtis Culwell Center at 2:30. Fans are not allowed. Wednesday, November 17: Veribest vs. Blum at 1:00. Veribest is the home team. Tickets must be purchased online. Here is the link:
https://tickets.curtisculwellcenter.com/p/ticket/2021-uil-state-volleyball-tournament
Here is the link for parking at the gym. It costs less to purchase in advance.
https://tickets.curtisculwellcenter.com/p/ticket/parking-options-for-2021-uil-state-tournament
Fans may watch live webcasts through NFHS at the following link if you can not attend. This does require a paid NFHS subscription. Here's the link:
www.nfhsnetwork.com/associations/uil
Thursday, November 18: 1A State Finals Match at 3:00 pm Clear Bag Policy To ensure guest safety and a quicker entry into the facility, the Curtis Culwell Center has implemented a bag policy limiting the size and type allowed at all events. Click here for more details. Prohibited Items • No purses, backpacks or diaper bags • No video cameras or cameras with lenses greater than 6" • No flags, signs or banners • No outside food or beverages • No noisemakers • No umbrellas • No balloons • No weapons • No animals (excluding certified service animals) • No flowers • No smoking/E-Cigs • No wrapped gifts All carried items and entrants are subject to search. Prohibited items must be returned to the owner's car or discarded. Any unlawful items are subject to confiscation, and the person in possession of such item is subject to arrest. Items left at the door will be discarded.
Congratulations to our Lady Falcon Volleyball team! Today they beat Miami in 4 sets to earn a trip to the Regional Finals tomorrow. The Regional Championship match will be played at Central High School at 1:00 on Saturday. It will be our Lady Falcons vs Wildorado. Fans from each school will sit on the same side as they did today. Let's go Lady Falcons! Keep bringing home those trophies!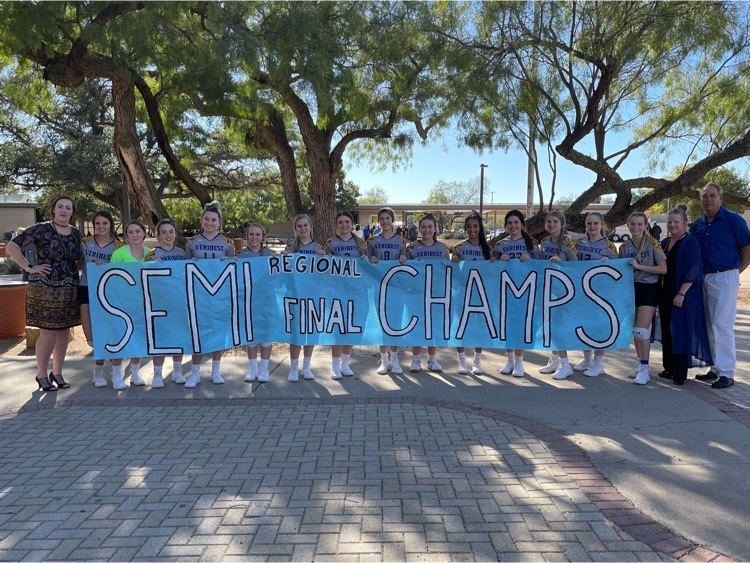 Just a reminder that tomorrow will be an early release at 11:30. Buses will run at that time.
Early Release on Friday! School will be released at 11:30 on Friday November 12, 2021, as our Volleyball team will be playing at 1:00 at Central High School. Please come join us as we rally our girls to a Victory!!!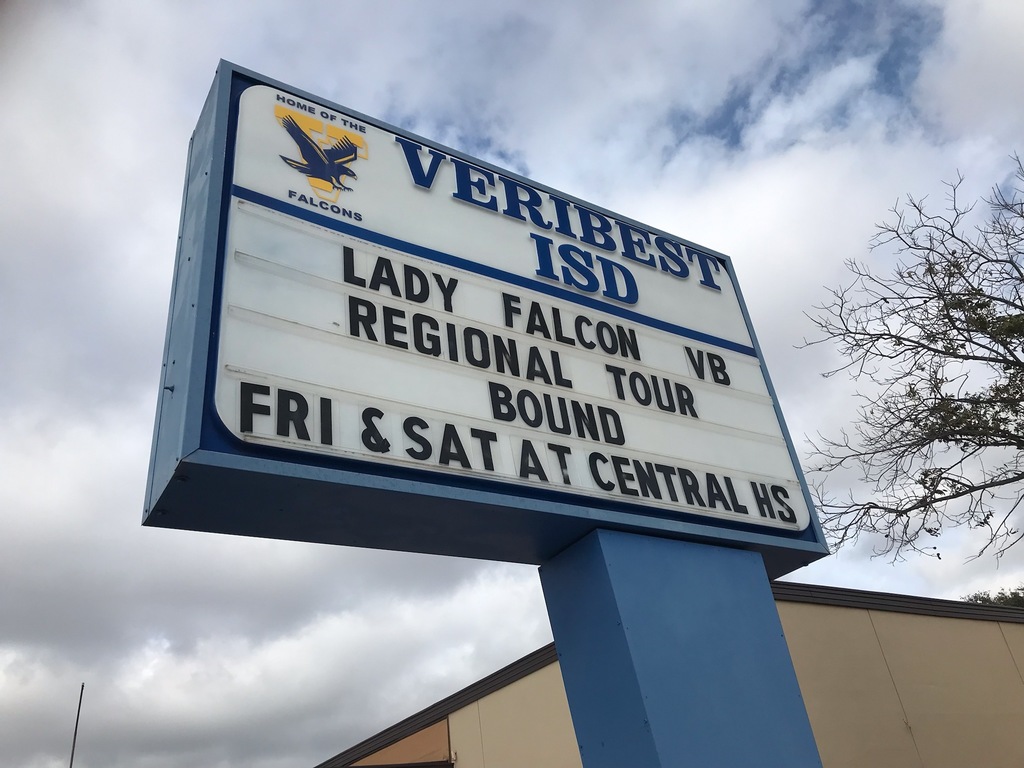 Please RSVP if you plan to attend the Thanksgiving meal on Thursday, November 11, 2021. Contact Mrs. Neill at
brenda.neill@veribestisd.net
with a head count. Thank You!
Alliyah and Ed made us all proud Falcons today at the state cross country meet! Alliyah was 80th out of 148 girls running and Ed was 54th out of 150 boys. Both athletes shaved time off their Regional performances as well. Way to work Falcons!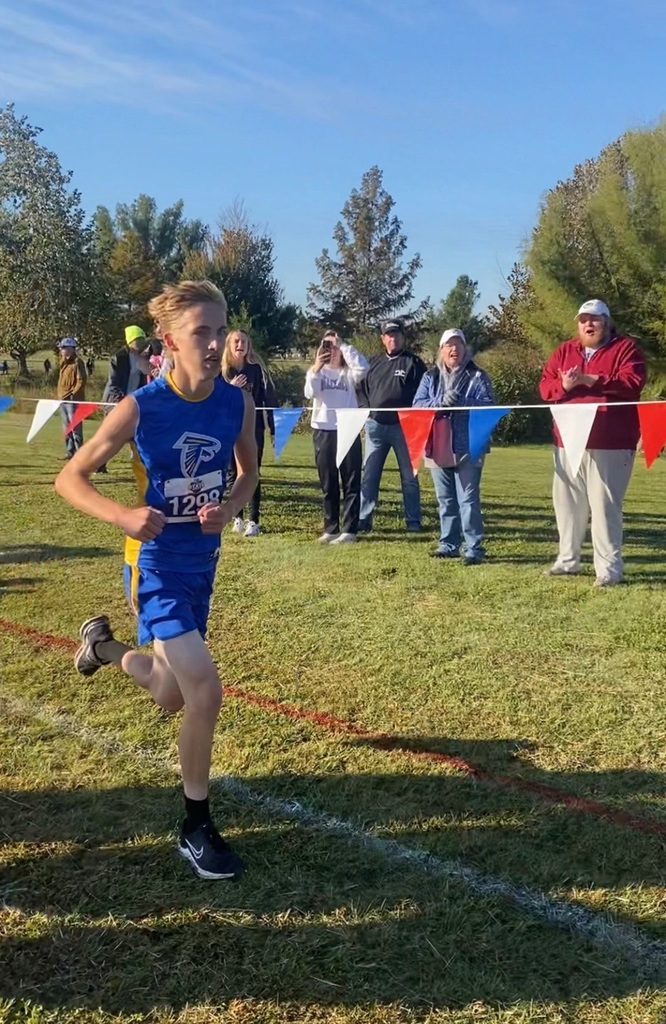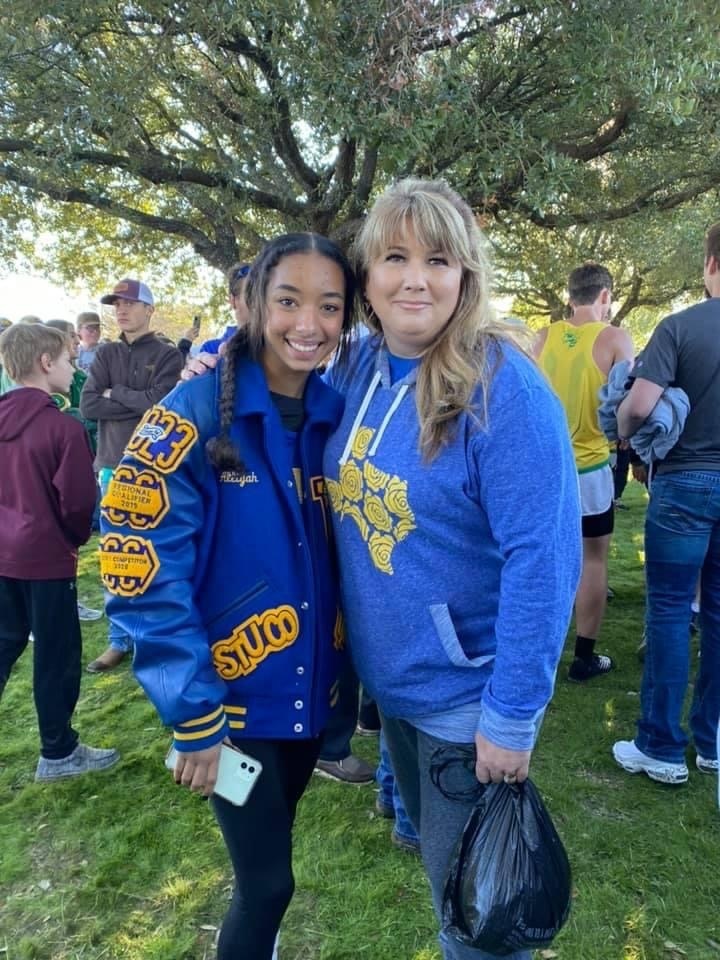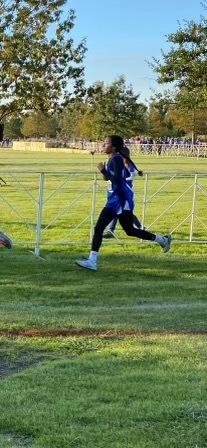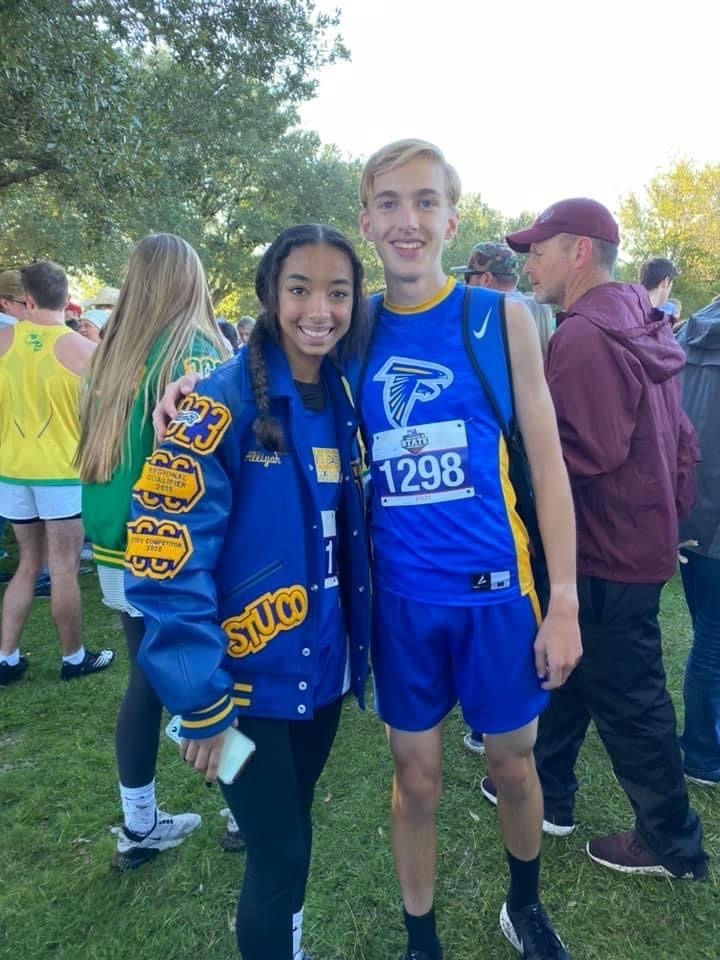 Congrats to our Lady Falcon volleyball team on their Bi-District win over Zephyr last night! 🏆🏐 Huge thanks to our fans who make the trip to support our kids! 🚙🏎 The Area round of the volleyball playoffs will be played on Saturday vs. Strawn in Bangs at 2:00. Good luck ladies!
Just a reminder that there will be a PTO meeting in the cafeteria at 4:00 today!
Junior & Senior Parents: Balfour will be here during lunch on Monday, November 15th to place orders for cap & gown, as well as, class rings.